Best large SUVs
In years gone by if you wanted a large SUV, you had to purchase a bulky, heavy, off-road-focused machine which usually was more like a clunky truck with two or three rows of seats.
These days, though, large SUVs need to answer the questions of discerning family buyers for the most part, and while some are still serious off-road-ready vehicles, many are offered with two-wheel-drive on monocoque chassis underpinnings with car-like dynamics, safety, space efficiency and drivability on offer.
These are vehicles aimed at those with lots of stuff to carry around, or lots of people to carry around. When we're talking about large SUVs, we are typically calling out three-row models with seven or eight seats, and while things are moving towards an electrified reality, this list comprises mainly petrol and diesel options.
If you do a lot of highway driving, a diesel model will likely make more sense, and those are more often made available with all-wheel drive. Urban-dwellers, or those who just don't like diesel, may be better off choosing petrol, though in some instances that can mean relying only on front-wheel drive – but they can be cheaper to buy and more affordable to service.
While some of these SUVs are definitely going to be in their comfort zone on the school drop-off run or traversing city streets, some have serious capability as well – even if a number of buyers will never really need the 4x4 underpinnings on offer.
If you really, really need space for little ones or luggage, then a people mover such as a Kia Carnival, Hyundai Staria or LDV Mifa may be a better choice, with sliding doors and bigger cabin space to make the road trip just that little bit more enjoyable.
Here's a list of a few of our favourite family SUVs – all with the availability of three rows of seats, and all with lots of practicality on offer.
Pros: A large and versatile cabin, striking styling inside and out, seven or eight seats on offer
Cons: No hybrid on offer yet, frustrating speed sign recognition system, pricing could push it out of reach for some
Hyundai's large flagship SUV has a face that wouldn't look out of place on an American pick-up truck, and offers seating for up to eight occupants - and those things could be the reason why this car has found plenty of favour with Australian buyers since the facelifted model launched.
The Palisade is offered with two powertrain choices. There's a 3.8-litre petrol V6 with 217kW/355Nm, which is front-wheel drive and employs an eight-speed automatic transmission. The other choice - and the pick for those who plan to do lots of highway driving - is the 2.2-litre four-cylinder turbo-diesel, which offers 147kW/440Nm and has all-wheel drive as standard. It, too, has an eight-speed auto.
The pricing is considerably higher than when the Palisade launched, but in higher-spec Highlander models feel almost like a luxury SUV with a lower price tag, though it must be said, the Elite versions hardly feel underdone, and both offer plenty of gear for the money.
And all versions of the Palisade can be had either in a seven-seat layout, with middle-row captain's chairs, or as an eight-seater, with a pair of three-seat benches for the rear rows. All versions come with three ISOFIX points, while the seat layout determines the middle-row top-tether allocation (either two or three) and the back-row has two top-tethers as well.
The flagship variants come with luxury appointments including nappa leather upholstery, heating and cooling for the front and second-row window seats, while there's also a heated steering wheel, and the Highlander also adds the clever Blind Spot View Monitor camera system, which shows a live video feed of the car's surrounds in the instrument cluster.
The Palisade is covered by Hyundai Australia's five-year/unlimited-kilometre warranty, and servicing is due every 12 months or 15,000km, whichever occurs first.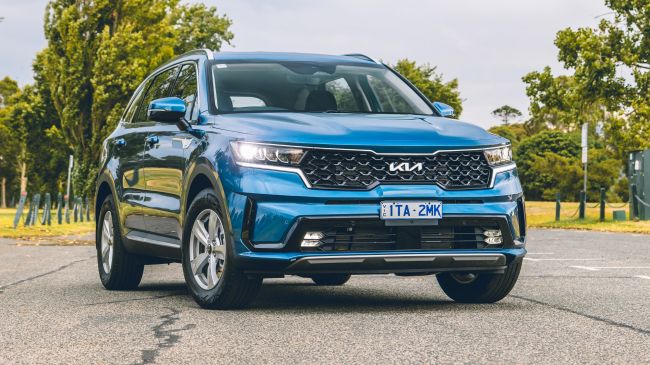 Pros: Lovely to look at, impressive to sit in, comes with the choice of petrol, diesel, hybrid or plug-in hybrid
Cons: Airbag coverage doesn't cover third-row, hybrid and PHEV models need more regular servicing
The current-generation Kia Sorento has been a smash hit like never before for the South Korean brand, and as a result there have been extensive wait-lists for this value-packed family seven-seater, especially for those who ordered a top-spec GT-Line model,
It's easy to see why you'd want that flagship version – it has heaps of upmarket feeling finishes and technology, and the GT-Line is currently the only grade avialable with the choice of four different powertrains.
Those powertrains include the most affordable 3.5-litre petrol V6 with 200kW/332Nm which is only available with front-wheel drive, while the impressive 2.2-litre turbo-diesel four-cylinder with 148kW/440Nm is all-wheel drive. Both have eight-speed auto transmissions.
Then there's the electrified pair – the HEV, or hybrid, model uses a 169kW/350Nm 1.6-litre turbocharged petrol-electric powertrain that doesn't require you to plug it in, while the PHEV model has 195kW/350Nm courtesy of a 1.6-litre turbocharged petrol engine teamed to a bettery pack (with up to 68 kilometres (NEDC) of EV driving capability. Both HEV and PHEV models use a dual-clutch auto gearbox. The Sorento HEV is available in front- or all-wheel drive, while the PHEV is AWD only,.
The Sorento – as with all Kia models – comes with a covered by a seven-year/unlimited-kilometre warranty, but keep in mind that the hybrid and plug-in versions have shorter 12 month/10,000km servicing requirements (diesel and V6 - 15,000km intervals).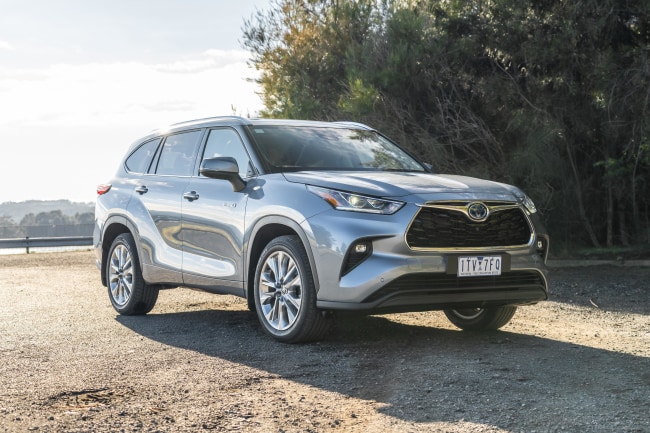 Pros: Spectacularly good efficiency from hybrid models, roomy and comfy, new turbo four-cylinder option
Cons: Looks a bit outdated inside and out, pricing continues to creep up, not overly exciting
The Toyota Kluger has forged a place in Toyota's Australian line-up and continues to be a popular go-to choice for buyers who want a big, family-focused SUV but don't need the off-road abilities of one of the other Toyota models.
The current-generation model launched with hybrid power for the first time in Australia, by way of a 2.5-litre four-cylinder petrol-electric powertrain with spectacular claimed fuel consumption of just 5.6 litres per 100km. Hybrid Kluger models are all-wheel drive only.
And since the launch of this generation of Kluger a few years back, the old V6 petrol has been ditched in favour of a new downsized 2.4-litre turbo-petrol four-cylinder, with 198kW of power and 420Nm of torque. That makes for a more effortless drive experience with more low- and mid-range oomph, and there's the choice of front- or all-wheel drive, too – the AWD is a bit more surefooted in getting the power to the ground. Turbo Kluger has an eight-speed auto as standard.
As with the now-defunct CX-9 (and the all-new Mazda CX-90) and Hyundai's big family-friendly Palisade, the Kluger's US-market focus (it's sold in North America as the Toyota Highlander) means it's a big, spacious SUV and there's three trim levels available - GX, GXL and Grande. All have the choice of turbo FWD, turbo AWD, or hybrid AWD.
There's enough space for a family of five to fit comfortably, while those standard third-row 'bonus seats' make for handy additional amenity when needed.
Affordable capped-price servicing with 12 month/15,000km intervals across all variants, and a five-year/unlimited-kilometre warranty, round out the highlights.
Pros: V6 diesel available, offered with hardcore 4x4 underpinnings, five- or seven-seat options
Cons: No petrol or hybrid available, bigger and bulkier than some rivals
All hail the new-generation Ford Everest – it's a great off-roader, and a consummate family hauler, too.
There are multiple different trim levels available for the the Australian-engineered Ford Everest – which is based on the Ranger ute – and while there are 4x2 and 4x4 models on offer, all come with rear coil suspension rather than leaf springs as you find in the pick-up truck.
Ford's local development of the Ranger and Everest models mean it feels like it was made for Australia's punishing terrain, be that between the roundabouts at school drop-off, or on a big school holiday trip with the fam.
There is a superbly comfortable and compliant ride, good noise suppression, and very light and easy steering. Off-road? Eats it up. Towing? Not a problem, with the maximum braked towing capacity of 3500kg.
But as tough as it looks, it's still a usable seven-seater interior with vents in the roof to keep everyone calm on long, hot Aussie summer days. And if you only need five seats, there is a version with that – the cheapest one, in fact.
Everest is offered with a 2.0-litre bi-turbo-diesel four-cylinder engine with 157kW and 500Nm. It's available with 4x2 or 4x4, and comes standard with a 10-speed automatic transmission. It is offered in the Ambiente and Trend grades, and in Sport with rear-wheel drive.
The range-topping powertrain is a 3.0-litre V6 diesel engine, with 184kW of power and 600Nm of torque, again with a 10-speed auto. You can have it with 4x4 only, and it's available in the Sport, Wildtrak and Platinum trim levels.
The Everest is backed by a five-year/unlimited-kilometre warranty, plus there are four affordable services to cover the first 60,000km of ownership.
Pros: Very affordable, spacious inside and feels pretty posh, good ownership promise
Cons: Diesel only - no petrol or hybrid, not as refined as some, new branding coming
The Ssangyong Rexton has become something of a surprise seller in the Australian market, with buyers who might have otherwise been waiting for big-brand vehicles getting sick of waiting, and rolling the dice on this large South Korean SUV.
Seven seats? Tick. Four-wheel drive? Bingo. The benchmark 3.5-tonne braked towing capacity? Yessir. A big body with space for seven occupants? Yep, got that too.
For many, the relatively low pricing will be what gets them through the door, and when they realise that all versions of the Rexton are powered by a punchy 2.2-litre four-cylinder turbo-diesel engine with 149kW and 441Nm teamed to a standard eight-speed auto, it could be as simple as signing on the dotted line.
While it's not the most refined thing to drive – there's some turbo lag and the steering is a bit strange – it offers a good (on paper) seven-year/unlimited kilometre warranty plan, with seven years of capped price servicing and roadside assistance included, too.
It makes a lot of sense if you're watching your dollars and cents, this car – but just keep in mind that there is no applicable safety rating for the Rexton, and the curtain airbags do not cover third-row occupants.
It is also worth noting that the Ssangyong brand could soon be no more, with KG Mobility expected to be the new nameplate following a long, drawn-out and tumultuous company sale process.
Pros: Three sizes available, exceptional on- and off-road ability, plenty of amazing tech
Cons: Expensive and keeps getting dearer, questionable reputation for reliabilty, lots of cheaper alternatives
Plan on heading off-road? The Land Rover Defender is going to be brilliant at it.
Plan on towing a big load? The Defender will be great at that, too.
Plan on sticking to the suburbs and never getting the car dirty? Surprise, surprise, this car is in its element there, too.
The Land Rover Defender is one of the best on- and off-road SUVs available, but one of the things that sadly counts against it is the fact it is expensive, and just keeps getting dearer. Yes, it's from a 'luxury' brand, and the pricing reflects that, but so does the technology and powertrain options on offer.
Choices for buyers include a 2.0-litre turbo-petrol plug-in hybrid model with an official fuel use figure of just 3.4 litres per 100km, through to four- and six-cylinder turbo-petrol engines, a six-cylinder turbo-diesel, and a firebreathing supercharged 5.0-litre V8 with 386kW and 625Nm.
Add to that there are three different body sizes available – the short-wheelbase 90 range, the mid-sized 110 version and the new 130 supersized SUV, with three rows of seating and ample cargo space to boot.
Buyers should note, though, that Land Rover has some well publicised issues with owners experiencing reliability concerns - see the JD Power results for evidence of such. However, there's a five-year/unlimited kilometre warranty, and every version has long servicing intervals (in excess of 20,000km per scheduled service).